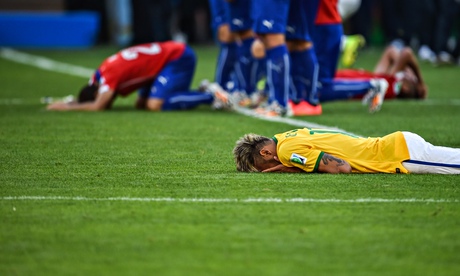 Oh, Brazil. The hosts are into the quarter-finals of their World Cup of World Cups after beating Chile on penalties at the end of a thrilling, gruelling 1-1 draw in Belo Horizonte. Brazil went to the well one more time here, trusting that this muscular team garnished with a single brilliantly creative No10 would have enough teeth to gouge their way through into the last eight. In the event it took the blind emotional inspiration of a penalty shootout, although even then Neymar managed to take a scene?stealing supporting role to the star man Júlio César, who saved two of Chile's penalties.
As the Estádio Mineirão erupted in a rolling roar of relief and joy after Gonzalo Jara's decisive missed kick, Neymar collapsed and lay face down in the centre circle. It is to be hoped when Fifa finally settles its eight-team guest list for the World Cup quarter-finals they remember to add the now-standard "plus 10" to Neymar's invite.
If Brazil's limitations were exposed by an impressive Chile team, they were at least familiar ones. Indeed these limitations have been evident through the group stage and were clear in the opening half of the opening match of this World Cup. In a sense Brazil have only one problem: they have only one Neymar. If Neymar takes a breath, as he did here after a fine first half, who steps up to make this team play? The question is yet to be answered.
To his credit, faced with yet another biggest game of his adolescent career, Neymar was sublime in the first half in Belo Horizonte and for a while Brazil's chief creative sprite looked capable of driving them to victory again, like some unflappable junior airline pilot landing a rickety jumbo in a cornfield. Wherever Brazil's seleçao finally come grinding to a halt at this tournament, Neymar has been an unreserved success already: not just because of his regular decisive contributions but because they have arrived under such multilayered pressure, both tactical – he is Brazil's only Neymar – and in the broader scheme of this World Cup.
Clearly Neymar is that rare thing, a human being able to function with unblinking focus, without snags or corners or doubts, while allowing the world's scrutiny to simply wash over him. This balls-of-steel resilience was there right at the end as he stepped up to take what became Brazil's final penalty, with Chile level in the shootout. As the ghosts of Roberto Baggio, Zico and the rest circled about him, Neymar produced – this kid – another trademark Brazilian paradinha penalty, stuttering, jinking and then slotting into the corner.
Endings aside, what a match this was, a whirl of attacking intent and reckless midfield energy. Were Chile playing brilliantly, or slightly wildly, you wondered at times? They are a team that can veer from one to the other without warning, although as the game slid into its last 20 minutes of normal time they seemed to have worn Brazil down decisively in a horribly anxious Estádio Mineirão.
By that stage, and indeed from around the hour mark, Neymar had faded a little into the fringes, as he always had to at some stage. A single brilliant footballer is a still a single footballer, and in Chile Brazil faced a team set up to close down the space in which Neymar likes to work. On the eve of the match Jorge Sampaoli had warned that his players would follow Neymar wherever he went on the pitch. How would he respond? It is a familiar question at this World Cup, to which the answer has been reassuringly the same throughout.
Before kick-off the Mineirão's low slung concrete bowl was coloured yellow for this occasion, with a collage of Chilean red squares daubed around its bulging tiers. From the start Neymar slotted straight into the central No10 position that has been his less favoured lot here, although his first involvement after four minutes saw him sandwiched to the floor in midfield, Gary Medel leaning in and dropping him with a high-speed judo-style fall. Brazil drew breath as Neymar left the pitch, had his knee sprayed and returned, hobbling, to the action.
Fernandinho had been billed before kick off as a universal panacea for pretty much every problem in this juddering Brazil team. With him restored to the team, the view was that the full-backs could push forward unhindered. The link between midfield and attack would be restored. Here was something new: the magic bullet midfielder. In the event, Fernandinho harried throughout his hour on the pitch and he did play closer to the attack, looking on after 10 minutes as Neymar crafted one of those lovely, round-the-corner flicks, angling his foot to play in Hulk who fell in the area with the chasing Chile defender seeming to catch his foot.
When Neymar plays Brazil play, and Neymar had begun to play. It was from his corner Brazil scored, Thiago Silva flicking on and a combination of David Luiz's knee and, finally, a lunge by Jara putting the ball in the net.
By now the Mineirão was in a state of uproar as Neymar took Hulk's fine chest touch and simply ran past Francisco Silva, the Chilean doing a decent impression of a man running the wrong way along an airport travelator, but his left-foot shot was scuffed. Moments later Neymar was bullied again, this time by Arturo Vidal, who body-slammed him into a full somersault. Some mitigation for Vidal here: Neymar is made of feathers and weighs less than a shuttlecock. But he was taking something of a beating in a concussive game.
After the excellent Alexis Sánchez had equalised for Chile, again it was Neymar rousing a suddenly fretful stadium, turning to the crowd in a plea for more noise, more energy, a cranking on the Neymar-throttle. From a careful start he had emerged as the dominant player of the half, familiarly relentless, and also at times showing that brilliantly subtle gift for playing a delayed pass to take an opponent out of the game, like a rugby league off-load in the tackle. If only Brazil had two of him. Or even, frankly, one and a half.
Hulk had some good moments but at times alongside him Neymar looks like a precocious little Premier League football scholar moonlighting up front for a Sunday league team. And as he faded in the second half so too did Brazil, although not before Hulk had put the ball in the net only to see the goal disallowed harshly for handball. From the most favourable angle Howard Webb could argue a biceps was involved, but penalties at least saved us from the worst of another gruelling refereeing storm.
After which, Jô missed a sitter in front of goal and Brazil's midfield was out-passed at times before a late rally with Chile's players out on their feet. Brazil will contemplate a quarter-final in Fortaleza with a huge sense of relief but also concern. Neymar-dependence is nothing new. He is a fine player and it is only natural Brazil depend on him. But with Oscar less impressive than he has been, Neymar resembled at times a hopeful dash of flair tacked on to a knot of obstructive muscle, like a silk hat on a nightclub bouncer.
For all that, this is not the moment to ponder too deeply the reasons for Brazil's failure to bloom a supporting class of creative talents, but rather to applaud once again the alluring sense of steel in Brazil's lone, feather-footed attacking star.